Potent is powered by Vocal creators. You support
Renee K Allan
by reading, sharing and tipping stories...
more
Potent is powered by Vocal.
Vocal is a platform that provides storytelling tools and engaged communities for writers, musicians, filmmakers, podcasters, and other creators to get discovered and fund their creativity.
How does Vocal work?
Creators share their stories on Vocal's communities. In return, creators earn money when they are tipped and when their stories are read.
How do I join Vocal?
Vocal welcomes creators of all shapes and sizes. Join for free and start creating.
To learn more about Vocal, visit our resources.
Show less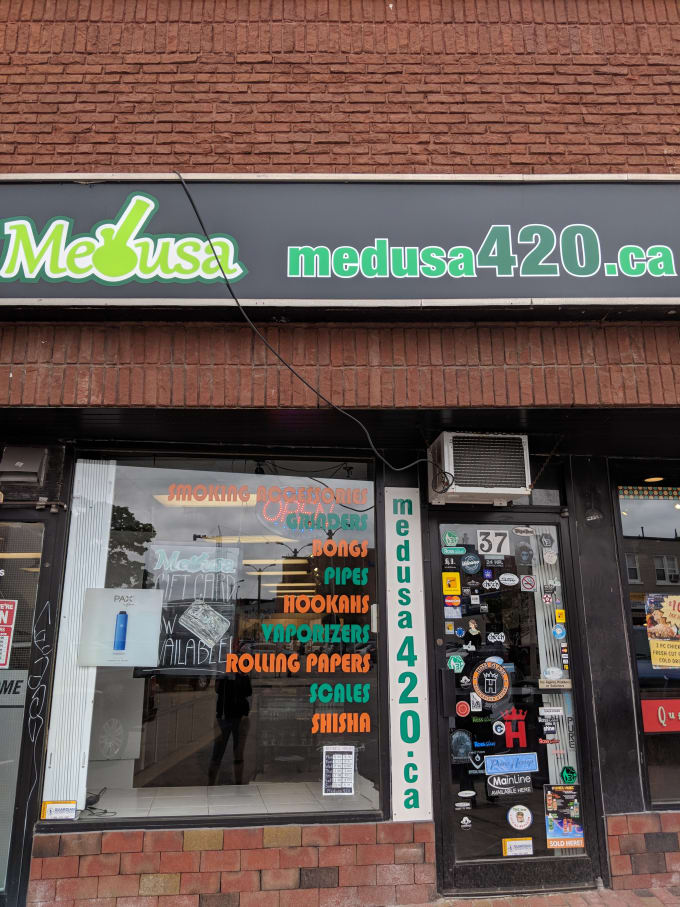 Today, I had the pleasure of visiting one of Guelph's local head shops!
Medusa Guelph's Local Cannabis Accessory Shop
Today, I had the pleasure of visiting one of Guelph's cannabis accessory shops named Medusa owned by Phil. When I called to set up the appointment I was cared for by the store manager, Cam, who was more than willing to host me at the store for a day of pictures and cannabis-related conversation.
Guelph is a university town and the stores' sales reflect that at the beginning of September. The visitors that frequent the stores range in age and has changed over the last two years. With the talk of legalization opening the door to older and closeted smokers, the age range varies now from 20 to 87-year-olds, where before the store was looked at more as a novelty shop that hosted a stereotype of pothead customers; Now you are indicating staying healthy.
You will not have a problem finding the store, it is located in the heart of downtown Guelph with signage and has been at this location for over seven years.
When I arrived, I was greeted by Spencer, a gentleman who knew more than his fair share of glass information. Spencer is a 23-year-old medical patient who also works at the stores, he is also full of knowledge beyond my scope when it comes to the glass community.
The store carries everything and anything from glass to accessories and the prices range from affordable seventy dollars to collectibles at thirteen hundred dollars. 
A new trend with glass is the horn handle on a bowl with UV reactive glass. They are very price efficient and the weld between the handle and bowl is thicker for less breakage, Trex glass is a local provider of this product.
There is also a technique called copper electric forming where the copper is poured over the glass and they almost become one. The effect is aesthetically pleasing and this would be a welcome piece to any collection. Snick Barns is an artist that demonstrates this style with skill and artistry.
With the introduction of concentrates to the cannabis community comes extreme change to glass blowing and the skill and artistry that is put into these pieces. There have been creations called rigs, that are delicate and intricate, to say the least.
One thing to remember, functionality should always be your first priority when purchasing your glass. The worst thing is to get home only to find out that your new favorite glass is only a table decoration.
At Medusa, you will also be able to purchase all your accessories from papers to smell proof containers, dabbers, and carb caps. They also have novelty items like ducky magnet cleaners for your bong as well as intricate ash catchers.
If you prefer to use a vaporizer, you will find a section dedicated to this at the back of the store. They carry a wide range of models and brands. So if you're looking for a concentrate pen or a dry herb vape, then look no further.
The staff here are more than welcoming, they will allow you to interact with the pieces you like and they are full of information so ask away!
I find that every time I visit Medusa's, I'm there for at least an hour exploring new items that I did not notice before. I feel like a kid in a candy store, eyes darting everywhere, my brain trying to register all the shapes and colors. I always find that I never have enough time in these shops as there are so many goodies and questions that come with each piece and they all deserve the proper amount of time and inspection.
If you ever come to Guelph, make sure you head over to Medusa 420 to check out their shop or just visit with the staff for some good cannabis community conversation.
By Snic Barns