Best Rolling Trays Every Stoner Needs
Love to roll a joint in style? Then check out our picks of the best rolling trays on the market.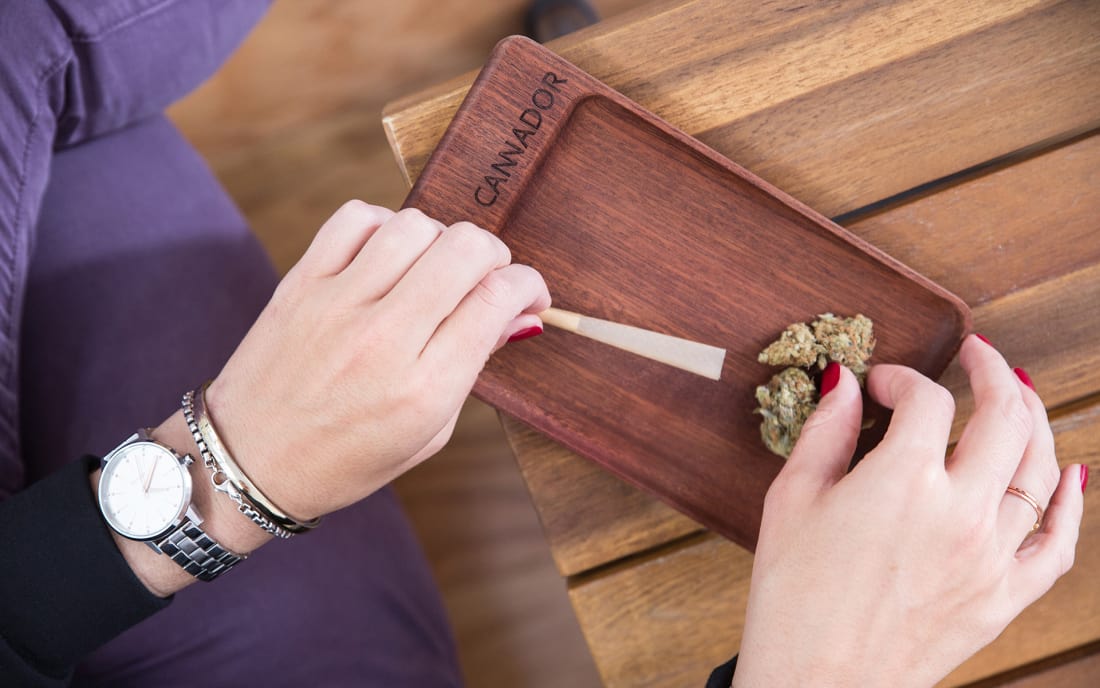 There are certain things that just always end up happening when you start smoking pot. For example, you become way more interested in botany now that you have a reason to be interested in growing cannabis. You also will become an expert on how to roll a joint.
With the many newfound interests that being a pothead will help you cultivate come a desire to get awesome cannabis accessories—especially when it comes to a stylish, quality rolling tray.
Speaking as a veteran pothead, I love a good rolling tray. It helps my fumbly fingers roll the right joint. Here are some of my top picks, and why I love them.
Bamboo Rolling Tray by Discreet Smoker
When in doubt, many of the best rolling trays are ones that are sturdy, have multiple functions, and give you ample space to roll a blunt beautifully. This particular tray has grooves for your grinder, stash jars, some rolling papers, and pre-rolled cones.
It's also really pretty and made of sustainable materials—both bonuses that we can all enjoy.
The Rolling Tray Bundle by Lionhead
If you're clumsy with rolling joints, this bundle has one of the best rolling trays you can want. This tray has a classic pattern, comes with free rolling papers, and also has a joint rolling machine that makes the process all the easier.
We'd suggest this one for newbies who just want to have a pretty casual tray that works with their exploratory side.
Nintendo Controller Tray by Rolling Paper Depot
Style does matter to a lot of stoners, and what is more stoner-friendly than video games? A rolling tray that has a Nintendo Game controller theme to it. Simply put, this is one of the few rolling trays I'd rank among the best, based on off style alone.
In many ways, this is a lot like your standard RAW rolling tray. However, it's got Nintendo. Win.
Rolling Tray 2.0 by Cookies
Cookies is known for making some of the best rolling trays on Amazon, especially when it comes to form and function. This one allows you to choose how you want to roll up, what you want to roll up, and if you want to keep the tray attached to your base.
The Rolling Tray 2.0 also comes with holes for pre-rolled cones, stashes, tools, and joints that you finished rolling. Simply put, it's as multi-purpose as the best rolling trays come.
Prescription Marijuana Rolling Tray by East West Trading Co.
This is a low-key homage to the green rush that's happening in so many states, and a nice 'hat tip' to the medical marijuana. If you've been feeling like paging Dr. Greenthumbs (he's the shit), then you'd probably want to grab this tray, too.
What I like about this tray is the fact that it's metal (easy to clean), and fairly large. It's also really gorgeous and reminds you to share the love. Nice!
Men's HT Rolling Tray by Hustle Trees
This is one of the best rolling trays for people who want to get both form and function going on in their smoking accessories. This rolling tray looks like a standard acrylic one, but it has an added feature that sets it apart from your typical plastic tray...
It has a removable silicone dab mat, too. So, if you just got your first oil rig, you might as well invest in a king size rolling tray that does double duty!
Rolling Tray Stash Phone Case by iChief
Looking for one of the best rolling trays to tote on the go? Look no further than the phone case-rolling tray hybrids made by iChief. These nifty trays allow you to stash your papers and weed inside a hidden compartment on your phone.
This is an ideal solution for stoners who want to smoke weed at work, but don't want to be busted with a stash box by their boss. Better still? The rolling tray is curved and super-easy to use.
The Cityscape by Trap Trays
King size rolling trays are not for everyone. For people who just want a nice little space to roll their blunt, Trap Trays created a beautiful, stylish, and perfectly portioned rolling tray that will definitely get some compliments from guests.
If you're a style-minded individual who digs plastic or metal rolling trays, this is one of the best rolling trays for you.
Large Rolling Tray by Afghan Hemp
If you haven't noticed, I'm a huge fan of double-duty trays. This rolling tray from Afghan Hemp is one of the best rolling trays for people who love dabbing and rolling joints.
The tray is massive, has nooks for all the supplies you need for both styles of consumption, and comes with some easy-to-use rolling paper. They even have slots for pre-rolled cones, and the tools come free of charge with the tray. What's not to love?